Tesla's (NASDAQ:TSLA) fourth quarter and 2016 full-year results were finally released Wednesday afternoon, missing estimates by a relatively small margin. It's hard to believe that only seven weeks ago, Tesla announced that they had missed their fourth quarter and 2016 delivery guidance. Given the miss, the assumption was that the stock would likely trend downwards into earnings, but that assumption was clearly wrong.
Whether due to the company's rapidly improving outlook (thanks to the Gigafactory), or a simple short squeeze, the stock continued its rally and was up 25% since the delivery announcement.
While many short-term traders were focused simply on results and next quarter's guidance in comparison to expectations, I'm particularly interested in what the company had to say about their long-term plans in three areas – SolarCity, the Model 3 and Tesla Energy.
SolarCity
While critics have widely panned the SolarCity deal as a bad one for Tesla, I've argued strongly that the acquisition is going to turn out quite well for shareholders. Unfortunately, the initial results from the fourthquarter were poor, as SolarCity only installed 201MW, compared with previous guidance of 250MW. The other frustrating outcome of the transaction is that solar installation revenues are now combined with Tesla's energy revenue, and its not yet clear whether or not the 10-K will break that out.
On the bright side, 28% of installations (about 55MW) were cash sales during the fourth quarter. This is an increase from 13% in the third quarter, and allows SolarCity to lower the amount of cash used in the business.
SolarCity also was a cash provider for Tesla after the merger, as the company closed another tax equity deal that helped it increase cash on hand by $70 million.
The other key takeaway from the letter and the call is that SolarCity is going to be strongly focused on profitability going forward rather than growth. Sales and marketing expenses are likely to be cut pretty substantially. Tesla believes that their stores are going to be a much lower cost avenue to sell solar panels.
(screenshot from livestream presentation)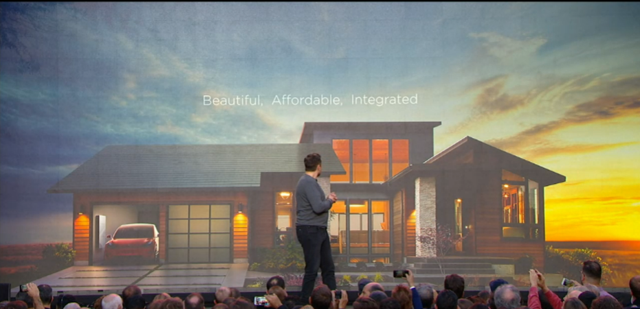 On the plus side, Musk and JP Straubel once again noted that they expect to start ramping up solar roof production toward the end of 2017. I believe that most analysts are skeptical that this will happen, so it will be interesting to watch as the year unfolds.
I'm cautiously optimistic about SolarCity being able to deliver here, but also not impressed with the fourth quarter. Lets hope that the 10-K gives some more details for us to analyze.
Tesla Energy
Tesla confirmed that they sold 98MWh of storage products during the fourth quarter. The bulk of this went toward their installation at Aliso Canyon, which was 80MWh. Assuming average pricing of $400-425/kWh, total revenue for the quarter was only about $40 million, but the sales help demonstrate that once production at the Gigafactory ramps up, demand is going to be strong.
Musk noted on the call that, looking out a few years, they expect the Gigafactory to produce up to 100GWh of batteries a year. About 70% of that production is expected to go toward filling 1 million Tesla's, while the remaining 30GWh would be sold for battery storage. As a comparison, that level of sales would be 75x greater then the fourth quarter on a quarterly basis.
Of course we'd expect the price to be much lower by then, but revenue for the battery storage alone could top $1 billion per quarter.
Tesla Model 3
The Model 3 was clearly the top question on everyone's mind. It was very interesting listening to Musk discuss the Model 3 ramp, because it's clear that he's excited about the possibilities for a smooth ramp-up period starting in the third quarter, but is trying to manage expectations so that people don't accuse Tesla of missing dates if the ramping is a few weeks or couple months late.
Musk mentioned that Tesla is expecting all of their suppliers to deliver enough parts for 1,000 Model 3's in July, 2,000 in August, and 4,000 in September, but he stressed that the ramp-up period could easily be slowed by just 1% of suppliers or internal teams running into unforeseen issues.
If Tesla is able to ramp up production on Musk's hoped for time table, it would actually be ahead of Tesla bull predictions, such as Morgan Stanley analyst Adam Jonas. Jonas previously indicated he expected a soft launch during the fourth quarter, so I'm curious to see if he gets more aggressive with his assumptions now.
Regardless, the long-term view is that the Model 3 is coming along nicely and that Musk and company are steadfast in their expectations of 20%-plus gross margins for the car once it hits scale. Assuming Tesla hits production of 500k in 2019, that would bring total revenue up into the $27-32 billion range, and gross margin up to $6-8 billion. If we then assume that 25% of that ends up hitting the bottom line, that leaves net income of $1.5-2.0 billion in 2019, netting us a PE ratio of 25-30, which would be positively reasonable for a company with Tesla's growth profile.
Concluding thoughts
Of course, given Musk's long-term vision and plans, my guess is that the company will find additional expansion opportunities and increase spending to meet them. This will result in additional consternation on the bear's part, with them trying to figure out why the stock hasn't plunged to $0 yet.
Personally, I have been impressed at the strength of this rally, and expect Musk to take advantage of it by selling a few million more shares in order to give Tesla additional buffer. This is seen as a sign of weakness by many, but I'd argue that its simply prudent balance sheet management.
3 First Impressions From Tesla's Q4 Report – Seeking Alpha