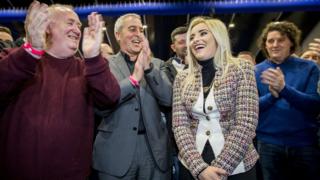 The first MLAs in the new Northern Ireland Assembly have been elected.
So far, three Sinn Féin candidates, one DUP, one Alliance Party and one Ulster Unionist have won seats.
A total of 64.78 percent of the electorate voted – up nearly 10 percent on last year.
The election – the second in 10 months – was called after the resignation of former Deputy First Minister Martin McGuinness following a dispute over a botched heating scheme.
So far, Sinn Féin's Mairtin O'Muilleoir has topped the poll in south Belfast and the party's Órlaithí Flynn and Elisha McCallion were also elected.
In North Down, the DUP's Alex Easton, Alan Chamber of the UUP and Alliance's Stephen Farry have each secured seats.
A total of 1,254,709 people were eligible to vote for 228 candidates competing for 90 seats in 18 constituencies.
The turnout was up across the board:
Mid-Ulster: 72%, up 13 percentage points on 2016
Strangford: 61%, up 11 points
North Down: 59%, up 10 points
Foyle: 65%, up nine points
East Londonderry: 63%, up 12 points
Belfast West: 67%, up nine points
Belfast East: 63%, up six points
Belfast South: 64%, up 10 points
Belfast North: 62%, up 10 points
North Antrim: 63%, up 10 points
East Antrim: 60%, up nine points
South Antrim: 62%, up 11 points
Fermanagh and South Tyrone: 73%, up eight points
West Tyrone: 70%, up 10 points
Newry & Armagh: 69% up 10 points
Upper Bann: 62% up 8 points
Lagan Valley: 62% up nine points
South Down: 66% up twelve points
The final make-up of the new 90-seat Assembly is unlikely to be clear until Saturday afternoon.
Analysis: BBC News NI Political Correspondent Enda McClafferty
We have turned the clock back with the level of voter interest in this election.
A turnout in the mid 60's was the norm 20 years ago.
Was it the heat generated from RHI or the tribal campaign fought by the parties that brought the voters out?
Either way, it shows the electorate can be turned on if the right buttons are pushed.
---
The snap election was called after the collapse of a coalition led by Arlene Foster's DUP and Sinn Féin's Martin McGuinness.
Mr McGuinness resigned over Mrs Foster's refusal to step aside as first minister pending an inquiry into the Renewable Heat Incentive (RHI) scheme, which could cost the Northern Ireland tax payer £490m.
Under Northern Ireland's power-sharing agreement, the government must be run by Irish nationalists and unionists together.
This assembly election saw one significant change: The number of assembly members has been reduced from 108 to 90 which will mean each constituency returning five MLAs each and not six as was the case beforehand.
The number of MLAs has been cut in order to reduce the cost of politics.
Forty-eight fewer candidates stood in this election than in May last year.
Opinion polls ahead of the election indicated the DUP would lose votes but remain the largest party, followed by Sinn Féin.
An online exit poll by Lucid Talk found that turnout appeared to be 2-3 percent higher among nationalist voters compared to the 2016 election, while turnout for unionist voters was unchanged.
Speaking on RTE's Morning Ireland, DUP MP Gregory Campbell said: "One big issue that is causing people difficulties in terms of projecting what final outcomes might be is the reduction from six to five in terms of seats per constituency."
Sinn Féin's Gerry Kelly said the higher turnout was significant.
"That shows that people are engaged, that they see this election as important," he told the BBC's Good Morning Ulster programme.
The SDLP's South Belfast candidate Claire Hanna said there had been more energy around polling stations, despite "awful" weather later on Thursday.
"That does, historically, tend to favour the centre ground," she said.
Speaking to the BBC's The View on Thursday night, former DUP MLA David McIlveen, who lost his seat in May 2016, said this election was "the last-chance saloon" for the DUP.
Mr McIlveen delivered stinging criticism of the two main unionist leaders, Arlene Foster and Mike Nesbitt, saying they had "as much charisma in a bit of tofu" – and even suggested Mrs Foster may no longer be the DUP leader on Monday.
Elections to the Northern Ireland Assembly use a form of proportional representation called the Single Transferable Vote (STV), in which voters rank candidates by numerical preference.
Candidates are then elected according to the share of the vote they receive.
The largest unionist and nationalist parties after the election will have three weeks to form a power-sharing government to avoid devolved power returning to the British parliament at Westminster for the first time in a decade.
The BBC News NI website will carry the latest election results and analysis on Friday and throughout the weekend.
There will also be special election programmes running on BBC Radio Ulster from midday, on BBC Radio Foyle from 15:00 GMT and on BBC One Northern Ireland at 13:30 GMT.
Count begins in Northern Ireland poll}