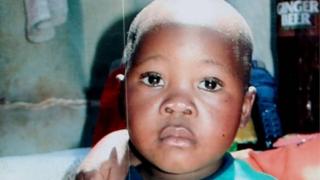 Hope is fading in South Africa for the family of a five-year-old boy who fell into a disused mineshaft, after a number of failed rescue attempts.
Richard Thole was playing next to his family's shack near Johannesburg when the ground gave in last Saturday.
His mother, Nombeko Thole, has said: "It hurts, I think my child is dead. I just want him back dead or alive."
Johannesburg is dotted with disused mines following the 19th Century gold rush which led to the city's founding.
Africa Live: Updates on this and other stories
The army has been requested to help find the boy.
Rescue efforts have been slow because of the volatility of the ground and the acid mine water inside the shaft, officials have said.
Mzwandile Masina, mayor of the local Ekurhuleni district, says there is only 11% oxygen in the shaft, making it almost impossible for the boy to still be alive.
He has told the family to "prepare for the worst".
The mayor is also worried about "losing more life" in the process of the search after a member of the rescue team became unconscious after descending into the shaft.
A specialised camera was lowered into the shaft and three other mines on Wednesday but there was no sign of the boy.
The residents of Jerusalem, an informal settlement east of Johannesburg, have gathered at the mouth of the shaft since Richard fell in.
They have even staged protests pleading with the government to relocate them to a safer area.
The informal settlement is on privately owned land and has been there since at least 1998.
Mining companies are obliged by law to seal off any unused mines but legislation is unclear on how these mines should be closed, so some companies simply cordon off the area with a fence.
Authorities say this shaft had been sealed since the 1950s but it is not clear how.
Local people who support themselves by illegally mining for gold, and who know the network of shafts well, have offered to go underground to look for the boy but the authorities have said that was not an option.
"We cannot allow just anyone to go in there considering their safety aspect," emergency services spokesman William Ntladi said.
"There's been massive rock fall and I can confirm there were no illegal activities taking place at this shaft before the incident occurred."
Richard Thole: Hopes fade for boy lost in SA mineshaft