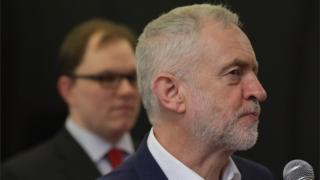 Labour has held Stoke-on-Trent Central in a Parliamentary by-election, seeing off a challenge from UKIP.
Gareth Snell was elected with 7,853 votes ahead of UKIP leader Paul Nuttall on 5,233 votes.
Votes continue to be counted in Copeland, where the Conservative Party is hoping for the first by-election gain by a governing party since 1982.
Labour has held both seats since their creation. The by-elections were sparked by the resignations of two MPs.
'Hope over fear'
In Stoke-on-Trent, UKIP had hoped to capitalise on voters' leanings towards Brexit – the area voted strongly to leave the EU in June.
But in his victory speech, Mr Snell said voters had "chosen the politics of hope over the politics of fear".
"This city will not allow ourselves to be defined by last year's referendum and we will not allow ourselves to be divided by the result," he said.
He said the result was "a victory for the whole Labour Party and Labour movement".
But Labour's share of the vote was 37% – slightly down on the 39.3% it got in 2015.
UKIP got 24.7% of the vote and the Conservatives 24.4% – both slightly higher than their 2015 vote shares.
The Conservative candidate, Jack Brereton, came third with 5,154 votes.
Storm Doris
Voter turnout was low in Stoke at 38% but 51.35% in the west Cumbrian seat of Copeland.
Polling day coincided with Storm Doris hitting the country with heavy rain and strong winds.
Mr Nuttall left the count without giving a speech. Speaking before the result was announced, UKIP's sole MP Douglas Carswell told BBC One's Question Time he thought it was "most likely" that Labour would hold Stoke.
He added: "Stoke is not even within our top 50 target seats.
"It's been a Labour-voting constituency since 1950, if we were to win it would be such an earthquake it would be akin to the great Spen Valley by-election of 1919 which marked the demise of the old Liberal Party."
In Stoke, Labour's majority has been decreasing in recent years, from 19,924 in 1997 to 5,179 in 2015.
Both Mr Snell and Mr Nuttall had tough moments during their campaigns, with Mr Snell apologising over old social media posts about women appearing on television and Mr Nuttall facing a backlash over false claims he lost close friends in the Hillsborough tragedy.
Labour is defending a 2,564 majority in the west Cumbrian seat of Copeland.
Mr Reed, who had been an MP since 2005, resigned to take a job in the nuclear industry. With thousands of people employed in the sector, nuclear power has been a key campaign theme along with warnings about local NHS cuts.
Labour has Gill Troughton as its candidate, a councillor and former doctor and ambulance driver, who is up against Conservative Trudy Harrison, who lives in the village of Bootle and was a parish councillor for a number of years.
Stoke and Copeland by-elections: Labour holds Stoke}