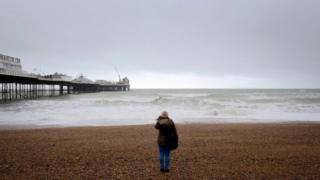 Winds reached almost 90mph as Storm Doris made landfall on the British coast.
An 87mph gust was recorded on the Galway coast in the Republic of Ireland.
Amber warnings issued by the Met Office for wind are in place in parts of northern England, East Anglia, north Wales and the Midlands, with a snow warning issued for Scotland.
Travel disruption is expected on road, train, air and ferry networks.
'Weather bomb'
The UK was being battered by gales in the early hours, with speeds of 72mph recorded at Aberdaron on the west coast of Wales.
The strong winds are expected to cause flight delays and cancellations.
Aer Lingus has cancelled almost all flights between between the UK and the Republic of Ireland.
Heathrow advised passengers to check their flight status before arriving at the airport.
Train services will also be disrupted, with Network Rail imposing a 50mph speed limit on the West Coast Mainline.
Building damage and interruptions to power supplies are possible as the storm, likened to a "weather bomb" by forecasters, unleashes its power.
Anyone affected by power cuts is encouraged to dial 105 for further information.
In southern Scotland, 10 to 15cm of snow is expected to fall throughout the Thursday.
On higher ground, snowfall could reach 20 to 30cm across Falkirk, South Lanarkshire, East Ayrshire, North Lanarkshire, Edinburgh, Dumfries and Galloway and the Lothian region.
Heavy rain is also likely, with snow expected over high ground across north Wales, north-west England, the Midlands, Yorkshire and East Anglia.
The strongest winds are expected to be "short-lived" and gone by the evening.
Forecasters say there is a risk of flooding in Northern Ireland, and possibly at lower levels in northern England, and the far south of Scotland.
However, the Environment Agency said it had not issued any flood warnings for the UK.
More rain and wind is expected to continue through to the weekend and into next week but will not reach the same level as Storm Doris.
Doris is the latest storm to be named by the Met Office, and follows Angus in November and December's Barbara and Conor.
Storm Doris winds reach 87mph as it hits UK – BBC News