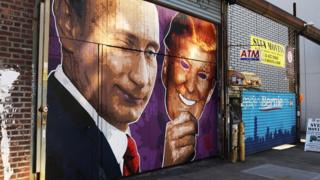 A US congressional committee has agreed an investigation into Russia's alleged interference in last year's US elections.
The House intelligence panel inquiry will scrutinise contacts between Donald Trump's presidential campaign and Moscow, members confirmed.
Until now, Republican senators had been reluctant to agree to Democratic Party demands for the inquiry.
The White House denies any improper behaviour during the election campaign.
The FBI and the Senate intelligence committee are also looking into claims of Russian meddling in the US election.
The panel said in a statement that its Republican chairman, Devin Nunes, and Democratic Congressman Adam Schiff had agreed to the investigation.
It will seek answers to the following questions:
"What Russian cyber activity and other active measures were directed against the United States and its allies?"
"Did the Russian active measures include links between Russia and individuals associated with political campaigns or any other U.S. Persons?"
"What was the U.S. Government's response to these Russian active measures and what do we need to do to protect ourselves and our allies in the future?"
"What possible leaks of classified information took place related to the Intelligence Community Assessment of these matters?"
President Trump has been dogged by questions about his advisers' ties to Moscow since the campaign. The White House has strongly denied the claims.
The Associated Press news agency reports that White House lawyers instructed Mr Trump's staff on Tuesday to preserve materials that could be connected to Russian interference in November's election.
Senate Democratic leader Chuck Schumer said last week: "There is real concern that some in the administration may try to cover up its ties to Russia by deleting emails, texts and other records that could shine a light on those connections."
The US intelligence community concluded that alleged Russian hacking of Democratic organisations was carried out to help Mr Trump defeat Democrat Hillary Clinton.
Mr Trump's National Security Adviser, Michael Flynn, was fired last month after he misled the White House about his conversations with the Russian ambassador to the US, allegedly regarding sanctions against Moscow.
Trump Russia: House intelligence committee agrees inquiry